{simplegrade:4}
Manufacturer: Tokyo Marui (Japan)
Type: Gas Fixed Slide
Date Acquired: 11/2002 (see bleow)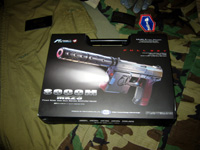 MK-23 Packaging
Well, it took alot of patience, but the MK-23 I ordered back in August finally arrived. (See my Retailer Review of Tokyo Hobby for more info on the delayed shipment)
First impressions: Great packaging! It can in a carry case with foam cutouts for the MK-23, magazine and silencer.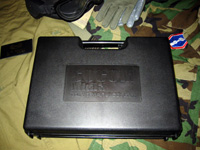 Case Closed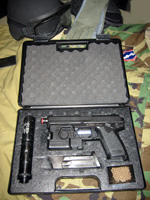 Case Open
The MK-23 is a large framed handgun and Marui did a wonderful job in creating this airsoft version. The gun is very solid and heavy and would be just shy of a real steel full framed HK USP unloaded.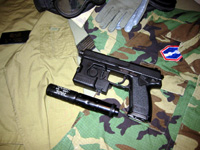 Outta the box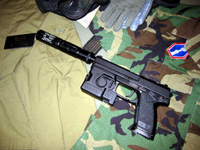 Silencer Attached
The outer parts are mostly ABS, but the internals are all metal. Since this is a Fixed Slide, Non Blowback airsoft gas gun, the slide can be engaged, btu it serves no purpose. The silencer and wagazine are metal and YES the silencer has foam inserts and does silence (Video to ba added later)
You also get the LAM (Light/Laser Attachment Module) which sports a flashlight and LED laser. I will be exeprimenting on replacing the internals of the LAM with a Surefire Tactical Flashlight and Laser. Will keep you posted.
Firing the gun is FUN! Since there are no valve upgrades yet, I am shooting hte weaker HFC134a gas, but the hop up unit makes up for the lack of power. My KSC Glocks are more powerful since I was able to upgrade the valves to accept Green Gas, and hopefully this will be an upgrade option for the MK-23 soon.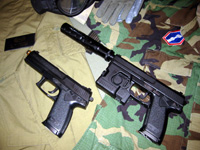 Comparison with TM MK-23 Spring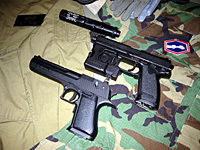 Comparison with TM Desert Eagle Electric
More to be added/edited later!!!
w00t! I scored a 2nd TM MK-23 from Dentrinity for $58.00!!! This one came w/o LAM and Silencer, but I have some upgrades planned for this baby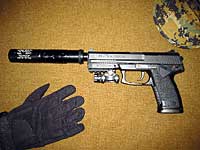 So far I added:

First Factory 20mm Under Mount Base
KM TN Giga Valve for Marui MK23 Fixed Slide
G&P Tactical Light, Single Cell
ICS Flash Light Mount
ICS Laser
ICS Laser Mount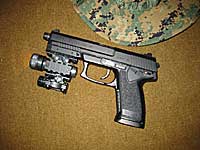 This is my version of the "Poor Mans" LAM unit. The nice part is this LAM is modular and will work on almost any of my rigs.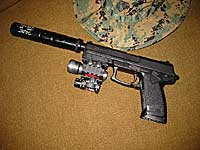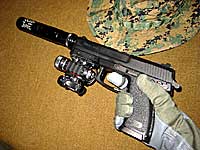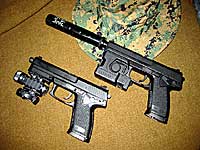 My 2 TM, HK MK23's side by side.
Chrono results (FPS)
Green Gas
.20 BB's
Min: 338.22
Max: 350.93
Avg: 345.79