Manufacturer: Javelin Airsoft Works (China)
Type: AEG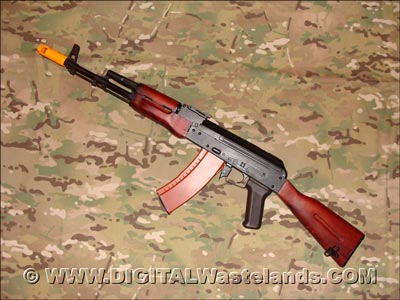 Javelin Airsoft Works – AK74 EBB
Javelin Airsoft Works line of AEG's are all EBB (Electric Blow Back), meaning the fake bolt will cycle during firing. This series includes battery charger and high capacity magazine.
This AEG has a real wood furniture and metal body. The Pistol Grip and Magazine are plastic which is similar to the real thing It takes a stick style battery, but the top cover has been modified to take a 9.6 volt and possible up to a 10.8 volt battery.
Chronograph results at around 420 fps with .20 bb's.
Features:
Individually Serial Numbered
Full Metal Body
Electric Blowback
Real Wood Stock and Handguards
60 Day Warranty
Package includes: Gun, Magazine, Manual, Cleaning Rod, Battery, and Charger.
AEG Specifications
Method of Operation: Electric Blowback (EBB)
Fire Control Selection: Safe-Semi-Full Auto Selectable
Caliber: 6mm
Battery Type: 8.4V Mini Type
Average Velocity: 420 feet per second with 0.20g BBs
Cyclic Rate of Fire: 750-850 rounds per minute
Overall Length: 950mm
Weight: 3050g
Barrel Length: 460mm
Magazine Capacity: 500rd