Manufacturer: Ops-Core (USA)
Type: Helmet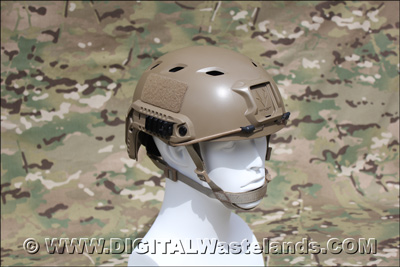 FAST Base Jump Military Helmet
The Ops-Core FAST Base Jump Military Helmet is a non ballistic protection, tactical helmet system. The Base Jump Military series weigh around 1.5 lbs and includes the following features:
Integrated military style Head-Loc chinstrap

Lightweight, multi-impact, ventilated liner with repositionable EPP impact pads and LDV closed-cell comfort foam that is not affected by temperature, altitude, or moisture
1/2″ and 3/4″ EPP pads come with the helmet

Occ-Dial adjustable fitband with replaceable leather front, nape, and side pads quickly detaches to allow convenient donning and doffing of COMMs headsets with internal top headbands
FAST-ARCs – 4 Position Accessory Rail Connectors: non-snag attachment points for quick yet secure donning or doffing of headborne accessories, including lights, cameras, goggles, COMMs, mandibles, etc
Molded-in front mount to attach lights, cameras and NVG brackets
Bungees for NVG stability
Side Velcro loop for patches and illuminators
Includes a Picatinny Adapter and Wing-Loc Adapter for the side rail and Universal Adapter for the front mount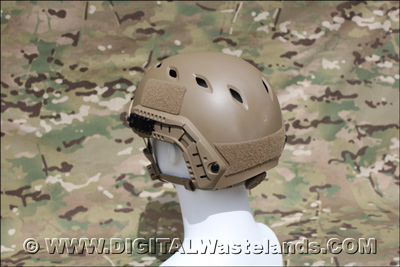 FAST Base Jump Military Helmet
The NVG Mount is molded into the plastic shell and will accept US Army, Notoros AKA2 and Wilcox G24 NVG Arms. It will also accommodate Go Pro Helmet Cams, Princeton Remix Lights and other upcoming products. The Head-loc chinstrap system is easy to adjust and once adjusted, stays in place. This combined with the Occ-Dial Fitband which lets you dial in the head band pressure for a custom fit.
3/4″ and 1″ Internal pads are included and held in the helmet by specifically placed hook Velcro. Notice the channel between the pads at the crown of the head. This is to accommodate headsets.
The side rails will accommodate Ops-Core adapters. The helmet ships with 1 Picatinny and 1 Wing-Loc adapter. I have an additional Picatinny adapter and 1 set of Goggle Swivel Clamps. These adapters are all plastic. The Picatinny adapters need some adjustments to work with "slide on" type mounts (i.e. M3 Weapon Lights, Plastic Light Mounts, etc). They Picatinny adapters are not easily adjusted or removable after install, but the Wing-Lok adapters are made for gloved use and are much easier to operate when helmet is worn.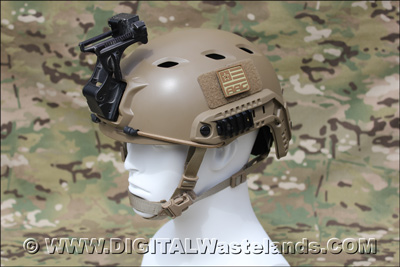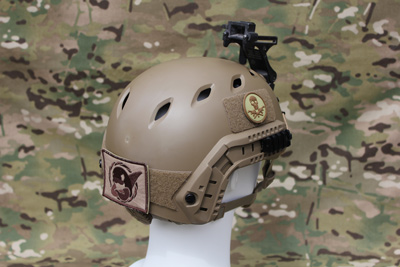 FAST Base Jump Military Helmet Loaded Up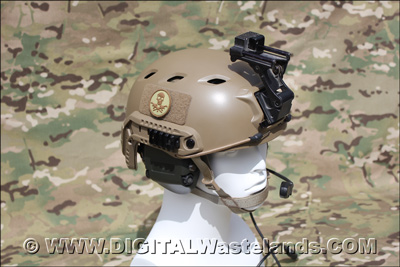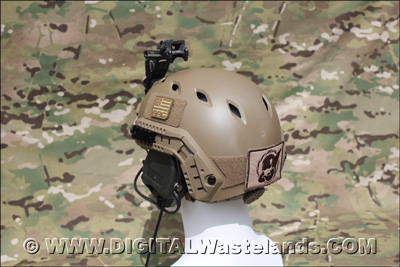 FAST Base Jump Military Helmet Loaded Up w/ Headset
Tan ESS Goggle arrived and you have to cut the strap to use with the Goggle Clip system. The goggles buckles are reusable and I just used a lighter to melt the cut ends to prevent fraying. . If you have ARC style side rails on your helmet, these goggle clips are the way to go. With a little practice, you can don/remove the goggles with 1 hand.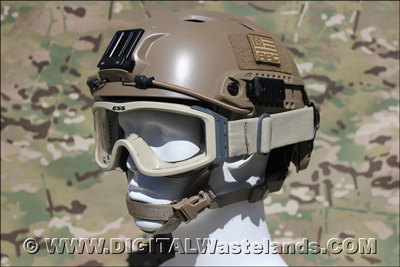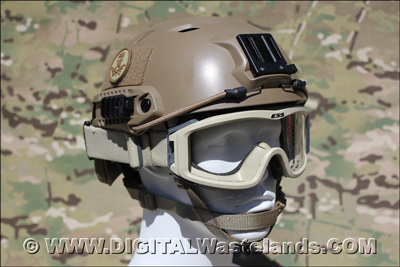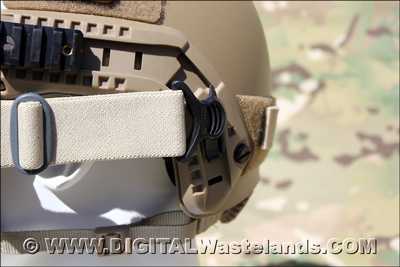 FAST Base Jump Military Helmet with Goggle Clips
For airsoft play requiring a full face mask, I modified a Hakkotsu Iron Face lower and mounted it directly on a set of ESS Goggles. I used a combination of plastic rivets and zip ties. This enables me to still us the helmet's chinstrap normally and allows me to remove the goggles and face mask without having to remove the helmet. It is much more comfortable this way. This setup doesn't work well with Peltor or Sordin style headsets, but works fine with swimmers/frogman/bowman style single ear setups.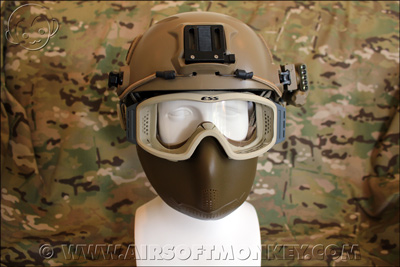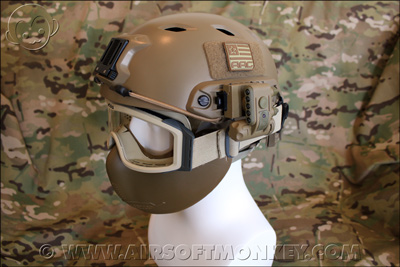 FAST Base Jump Military Helmet with Goggle Clips and Modified Hakkotsu Iron Face Mask
Just received the Crye Precision – Airframe Helmet Cover. Click picture for more details.