{simplegrade:3}
Manufacturer: Vanaras, (China)
Type: Optics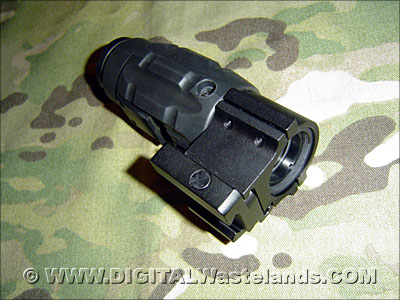 Valaras – 3x Magnifier w/ QD Twist Mount
The Valaras – 3x Magnifier w/ QD Twist Mount is a replica of the Aimpoint 3x Magnifier w/ QD Twist Mount. Physically it's build is a metal 30mm tube with rubber armored cover and Aimpoint trademarks. It's a great facsimile of the original. The QD Twist Mount is also a spot on replica and functions well. It comes with windage and elevation adjustments even though it has no reticle. It does adjust the reticle of whatever reddot sight you choose to use.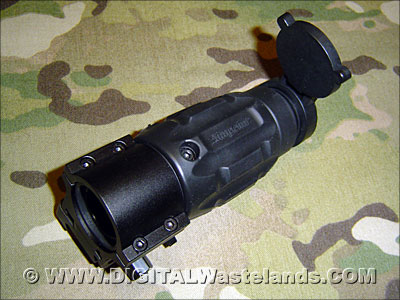 Valaras – 3x Magnifier w/ QD Twist Mount
All the pieces fit pretty tightly together. There is a bit of play in the QD Twist Mount though, but that doesn't effect performance. The glass used is surprisingly clear, but unfortunately eye relief is pretty bad. The Valaras replica has about a 1" -1.5" inch eye relief. Real Aimpoint 3x's have up to a 2.5" Eye relief. The QD Twist Mount works well, but you have to remove the magnifier entirely to clear your red dot sight. This QD Twist Mount is relatively low and meant to work with a standard "L" style 30mm mount. You will need risers for it to work with a cantilever type of mount or an EOTech.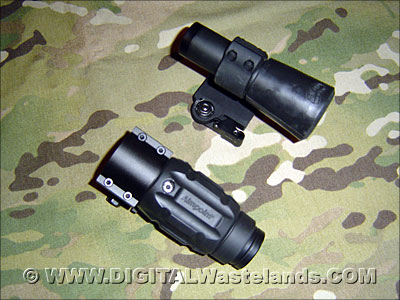 Hendsholt 1.5x Magnifier w/ Larue Side Flip Mount, Top
Valaras – 3x Magnifier w/ QD Twist Mount, Bottom.
I also own a Hendsholt 1.5x Magnifier on a Larue Side Flip Mount and was planning to use the Valaras on the Larue Side Flip mount, but the Hendsholt Magnifier has much better eye relief and optics. I also prefer the over all higher height of the Larue setup.
On my EOTech 511, I'm using the Larue ESOC-C Mount, which has a built in riser to the rear of the mount and it accommodate the QD Twist Mount perfectly.