{simplegrade:5}
Manufacturer: Western Arms (Japan)
Type: GBB
Date Acquired: 03/2004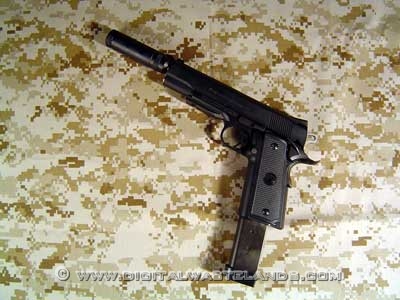 Western Arms – Prokiller Para Ordnance 14-45 Combat
Well… suprisingly with the amount of airsoft I own, this is my first Western Arms gun. I must say for quality, weight, appearance and performance, it lives up to what all WA owners say. These guns are top rate replicas and top rate performers,
This specific gun is the Prokiller Para-Ordnance 14-45 Combat which includes the following:
Barrel Shroud/Suppressor
8 inch Inner Barrel
46 Round High Cap Magazine
NOTE!!! Even though this gun is called a Prokiller and it ships with the High Cap mag, it is NOT select fire. This replica is semi auto ONLY (Which I found out after purchase, but that disappointment was countered by it stock fps performance. See Below)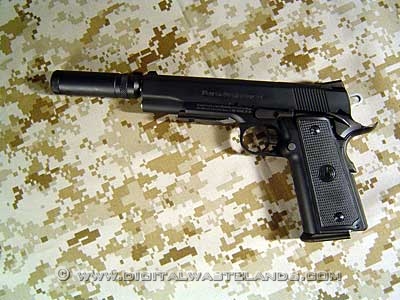 Western Arms – Prokiller Para Ordnance 14-45 Combat – Regular Para-Ordnance Magazine
Quality of this replica is top notch. Other then the plastic slide it looks and weighs almost the same as it's unloaded, real steel counter part. The only gripe I do have is a little magazine wobble, meaning there's a little space in the magwell.
Performance of this gun , out of the box, is really good. This is my first WA 1911 type of gun and I had forgotten 1911's were Single Action, but yet another area where WA made a great reproduction. With Green Gas, fps results as follows:
Chrono Results (FPS)
GBB
.20 BB's
Min: 382.65
Max: 410.21
Avg: 393.54
I figure the much longer inner barrel is giving the added power, but it is more then I expected. I have a new Hogue grip on order and so far that is the only upgrade I'm planning on this gun.