Manufacturer: Tokyo Marui (Japan)
Type: Recoil AEG (Automatic Electric Gun)
Date Acquired: 03/2012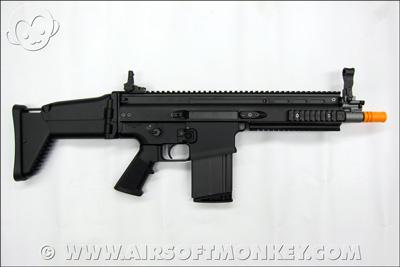 Tokyo Marui – SCAR-H
The Tokyo Marui – SCAR-H is 1 of the latest in their Recoil line of AEG's. Like the TM SOPMOD and SOCOM series, these AEG's have a Recoil systems, which give the user a more realistic feel when fired. Since this is the "H" variant of the SCAR, it uses a physically larger magazine to replicate firing the 7.62 NATO round. The magazine is proprietary to the SCAR-H. It comes with both CQC 13″ short length barrel and an extension for 16″ standard barrel. Most other features are identical to the SCAR-L.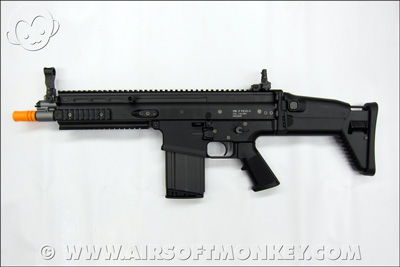 Tokyo Marui – SCAR-H
The upper receive is aluminum with a full top Picatinny rail and include folding iron sights. The lower receiver is polymer with ambidexterous selector. The foregrip has rails on both sides and bottom. The rear stock will slide for length adjustment, fold to side and also has an adjustable cheek rest. It takes a standard 8.4v Mini Style battery in the stock.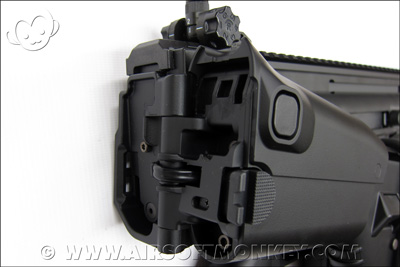 Tokyo Marui – SCAR-H
Shooting the TM Recoil AEG series is fun. The recoil is strong enough to feel and move the AEG when firing.
Chrono results (FPS)
Green Gas
.20 BB's
Avg. 300 (This limit is due to Japanese law)
See Travis Haley's view of airsoft for use in real weapons training using the TM SCAR.