{simplegrade:5}
Manufacturer: Tokyo Marui (Japan)
Type: AEG
Date Acquired: 11/2003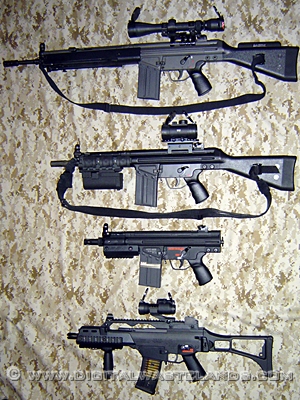 Size Comparison Shot: G3/SG1, MC-51 Custom (DEN Custom Neo G3 Shorty), G3 SAS, G36c
As you can see by the above pic I have a few G3 class rifles and I really like them. I wish I had an MP5 just to take this pic, but I put my G36c in the pic since it's grip is simular to an MP5. In the real steel world I prefer the 7.62 round over a 5.56 or handgun round so that may be why I prefer G3's. But I do prefer the larger frame of the G3 class.
Summary
The G3 SAS is a combination of a G3 + MP5K. In this TM rendition, you see we have the MP5k Front End, Cocking Tube, Claw Type Barrel Attachment, Quick Detach Flash Hider, G3 End Cap with Sling Attachment and 500 round High Cap Magazine. Some updated improvements to the TM G3 series include: G3 Trademarks, an EG1000 motor (Will confirm on any gearbox updates from the older TM G3's soon) and Navy Markings on the Selector.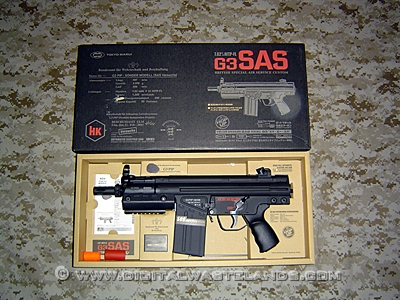 G3 SAS Packaging
Tokyo Marui does a wonderful job in their packaging and package design. The packaging of the G3 SAS does not disappoint and shows how their packaging has evolved.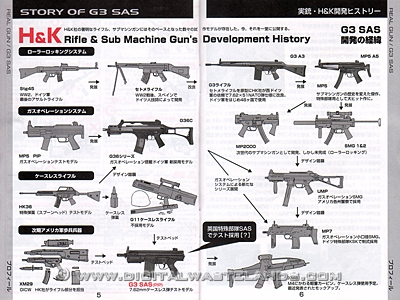 G3 SAS Manual – HK History
As far as I can tell, there is no "REAL" counterpart to this TM G3 SAS and from a real standpoint I think it would be a hella uncontrollable gun w/o a stock. I guess it could exist, but not in TM's form. The MP5K Cocking Handle and Tube only would chamber a 9mm size bullet an not work with a 7.62 round. But TM went through alot of trouble trying to justify this as a prototype gun like the G11. This model is supposed to shoot a 7.62 HITP Flechette round. (Still doesn't solve the short pull on the cocking handle). But above pic is just one section in the TM G3SAS manual that tries to justify the G3SAS's existence. (I'm not sure why they relate the G3SAS to the OICW since the OICW uses a G36 for the rifle portion).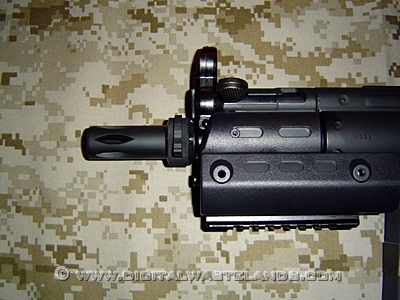 G3 SAS Front End
The front end is very MP5K looking. It has a 3 Claw Muzzle Adapter w/ 14mm Negative thread, Thread Protector, QD Type Flash Suppressor and MP5K Cocking Handle (Pulling the Cocking Handle will open the Shell Ejector Port to give access to the Hop Up Dial).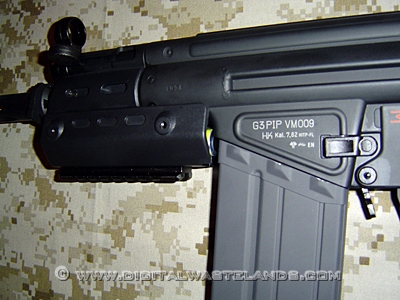 G3 SAS Front End – Battery Fore Grip
The Foregrip that holds the Battery will take an 8.4 600MaH and 9.6 600MaH Battery. There is a button on the front of the foregrip that lets you easily remove it to replace the battery. One downside is you have to remove the QD Flash Hider or Silencer to remove the foregrip. Also on either side of the foregrip are pre-installed screw holes to attach G36 short side rails.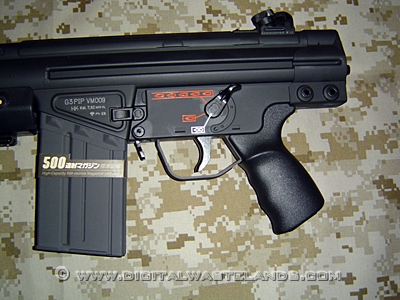 G3 SAS Body
New to the G3 series by TM are HK Trademarks and Navy Trigger Group Markings!!! They Selector Switch also feels less "mushy" then past G3's and because of how short the G3SAS is it feels very solid with no barrel wobble or fore grip squeaking (G3 owners know what I'm talking about). And on the end it a G3 end cap with an MP5K type of sling swivel.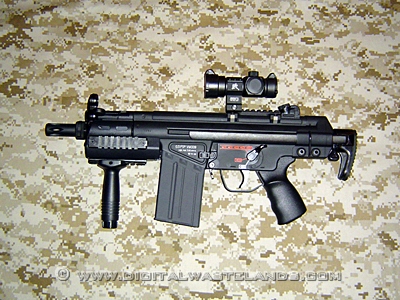 G3 SAS Cosmetic Upgrades
If you seen my other airsoft guns you can tell I hate to leave them stock, and luckily I had a bunch of extra parts I had purchased for my other G3's but never used them. So I got to make this Frankenstein of a gun a little more Frankenstein'd
So far, added the following:
Guarder 30 MM Reddot Scope
TGS 30mm QD Mount Ring with Knight's Armament Markings (This gives me the use of existing iron sights as well)
G&G Low Profile Scope Mount
G36c Short Side Rails
TM MC-51 Slither Stock
TM Knight's Fore Grip Handle

Spec-Ops

Wolf Hook Sling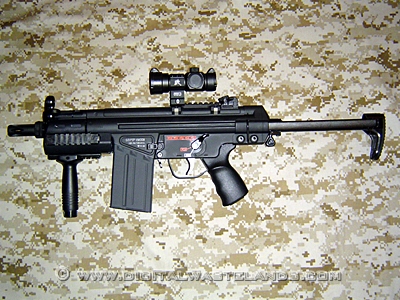 G3 SAS Shoulder Stock Extended
Well even thought this is a sub machine gun, I just had to put something to shoulder this when fired. I guess it's my past training that makes it feel weird to me to aim and fire w/o a stock… If I could hold an SMG like a pistol then I would probably not put the stock on, but I either look silly holding the gun
Performance
With the addition of the EG1000 motor to the G3SAS the ROF is on par with any other recent TM gun. You and hear and see the difference between an older G3 and this one. I'm not yet sure if any other internal upgrade were made from the older G3's at this time.
I don't think I'll be upgrading anything internally on this gun because I don't want some weird battery hack. I dunno we shall see
Chrono Results (FPS)
AEG
.20 BB's
Min: 272.48
Max: 288.23
Avg: 281.94