{simplegrade:4}
Manufacturer: Tokyo Marui (Japan)
Type: AEG (Automatic Electric Gun)
Date Acquired: 04/2002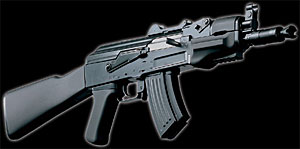 Tokyo Marui – AK Beita Spetsnaz
I chose the AK Beita Spetsnaz for a CQB (Close Quater Combat) role. I was debating getting this or an MP5 based AEG, but the AK won due to its' greater accuracy and reliabilty. This is because of the design of Tokyo Marui's AK line of AEGs. Because of this design, I did not upgrade the gearbox yet, but did add the following:
Just AK47 Scope Mount
Walther Red Dot Scope
East Beta Sling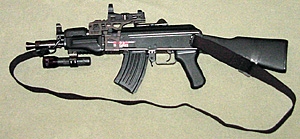 Currently this is how the rig looks
The performance of this rig is rock solid like it's real steel conter part (BTW I own a Norinco AK47 too). This AEG has the most metal parts I've ever seen. It's weight is solid, but the stock is a bit short (Typical problem on real AK's). With the red dot scope it's very easy to aquire a target and the small rail on the foregrip accomodates a tac light.
There is no Real Steel version of the AK Beita Spetsnaz. This was a self admitted, Tokyo Marui invention.
Chrono Results
AEG
.20 BB's
Min: 276.08
Max: 289.64
Avg: 283.93