{simplegrade:3}
Manufacturer: Poseidon (Japan)
Type: Resin Garage Kit – Unofficial Recast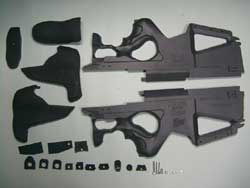 Poseidon – Seburo MN23 Resin Replica – Unofficial Recast
This is another unofficial Poseidon resin recast. This is the Seburo MN23, which was used in Masamune Shirow's Manga, Dominion Tank Police. This Seburo weapon was not in any of the Ghost in the Shell or Appleseed series. The orignal Poseidon – Seburo – MN23 kit could be fitted around a Tokyo Marui FAMAS, thus giving you an Anime based AEG. I have the kit since 2004, but haven't hasd the time to try and put together yet. A friend of mine, who recently passed away, Steve Holtgrefe, bought the exact same kit and he couldn't get it to work on his FAMAS, without some major midificaitons to the resin kit.
This Poseidon recast was created and sold by Monsters in Motion, and as with most recast, is very rough compared to the original Poseidon kit. Once I do get a good chunk of time, I will continue on with this project.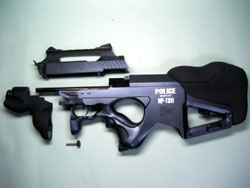 Poseidon – Seburo MN23 Resin Replica – Unofficial Recast
On a interesting sidenote. These Seburo – MN23's were used in the 2003 Battlestar Galactica Mini Series. This is the main reason they were recast by Monsters in Motion were created.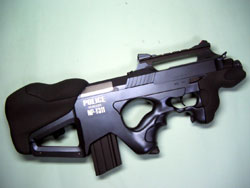 Poseidon – Seburo MN23 Resin Replica – Unofficial Recast