Manufacturer: WE (Taiwan)
Type: GBBR
Date Acquired: 09/2011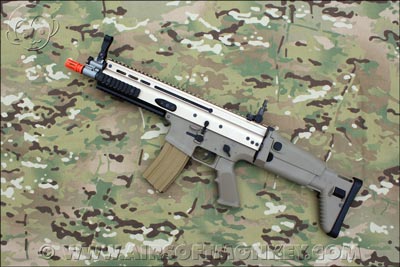 WE – SCAR-L CQC
This 2nd Generation of the WE SCAR-L CQC. This version, available at Airsoft Extreme, is the only Officially Licensed FN SCAR GBBR in the US at this time.
Features
FULLY Licensed by FN Herstal
Durable ABS lower
Metal Upper, CNC Machined
NEW Blowback System with OPEN BOLT Design
Adjustable hopup
Short CQC barrel
Adjustable folding stock with adjustable cheek rest
Bolt locks back when out of BB's
Flip front and Rear Sights
Specifications
Weight 3,162g
Length (Folded): 525mm
Length (Retracted): 710mm
Length (Extended): 775mm
30rnd Magazine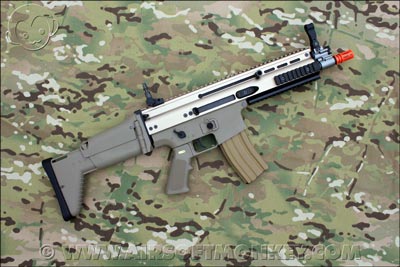 WE – SCAR-L CQC
The magazines hold 30 rounds and come in 2 versions. It ships with a internal gas version and there is another version that will take a 12gram CO2 cartridge. Unfortunately the gas magazine that came with the GBBR had a leaky fill valve, but it was an easy fix with a valve tool to tighten the valve and silicon oil to lubricate the O-rings. The CO2 Magazine had no leak issues. The CO2 magazine was slightly more powerful then the gas magazine (See chrono results below) and both held enough gas to shoot 60 rounds with conservative shooting (i.e. Short bursts and semi auto). Curiously, CO2 wasn't that much more powerful or consistent then Green Gas in this initial firing. Both magazines have a switch that will lock the bolt back on an empty magazine.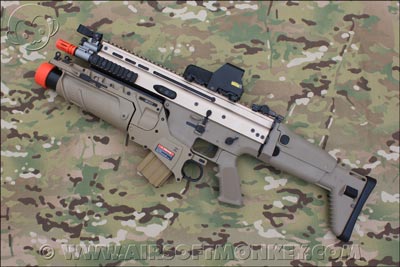 WE – SCAR-L CQC
The Selector Switch and Magazine Release are ambidexterous, but bolt release is only on the left side. Cocking handle can be installed on either side.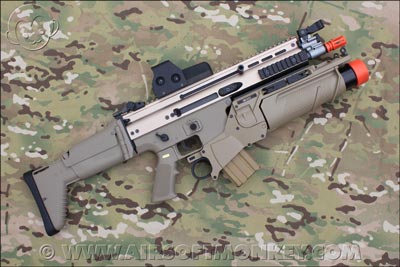 WE – SCAR-L CQC
Overall it's a neat airsoft rifle for the realism aspect. Will report back in regards to durability.
Chrono results (FPS)
Temp: 72? F
CO2
.20 BB's
407

382

383

384

388

386

Avg. 389
Green Gas
.20 BB's
382

380

381

386

376

383

Avg. 381