{simplegrade:5}
Manufacturer: KSC (Japan)
Type: Gas Blow Back
Date Acquired: 07/2001
Street Price: Stock $120.00, Upgraded $225.00
Updated Pics: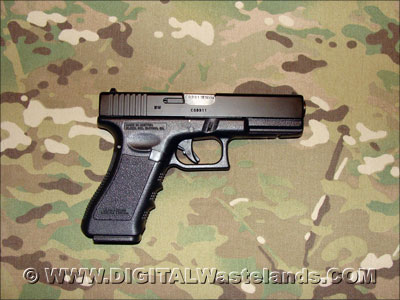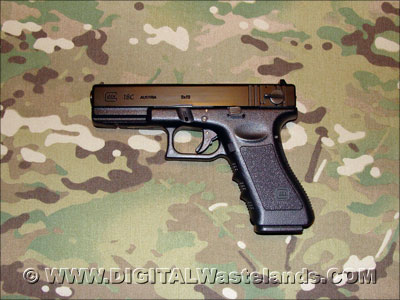 This was my first Gas Blow Back gun I purchased even before I bought my first AEG. I have 2 of them now. A stock version adn one that was Upgraded by my buddies at Airsoft Extreme.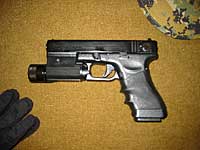 First impressions… OMG when I first opened the box and put the magazine in I was amazed by the weight overall external appearence. I compared ti to a real Glock 17 and was pleased to find all markings were accurate and the fact it was very difficult to notice the difference. These KSC Glock fire Green Gas no problem and are selct fire, meaning they will go full auto! The are very accurate and powerful spitting out .20 bb's at well over 300fps.
My first Glock 18c I bought off Ebay and within a couple of months of usage the plastic slide broke. (I now know that this is a regular occurance with plastic slided GBB's).
I contacted Airsoft url=http://www.airsoftextreme.com/]Airsoft Extreme[/url] to repair the Glock and inquired about an upgraded version they were selling and they cut me a deal. I got my origianl Glock repaired and bought the upgraded Glock too.
Now I have 2 of these babies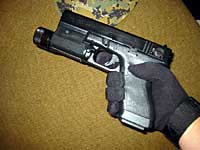 The Upgraded Glock 18c came with the following upgrades:

KSC G18C
Metal Slide
Metal Outer Barrel
Hi-Flow Valve
Metal Spring Rod
Strenghten Hammer Spring
Free Installation
When firing the Metal Slide version of the 18c a loud metal "clack" is heard when the slide cycles.
I ahve also added the following upgrades:
50 Round High Cap Magazine
Hogue Handall Grip
GP M3 Tactical Light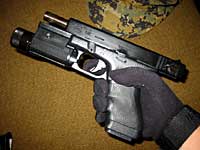 I am glad I repaired the original one and kept the plastic slide vrsion, since it cycles faster in full auto.