Manufacturer: GoPro (USA)
Type: POV Camera
The GoPro – HD Hero Camera is a POV (Point of View) camera system that shoots digital video up to 1080p HD. We've reviewed a few Gun Cameras here in the past, but they do not come close to the quality that can be shot with the HD Hero system.
The other problem with gun mounted cameras, is there tends to be lots of shots of the camera pointing down or up in the air and tons of "shakey" shots (i.e. when running, moving, etc). The gun is not always pointed at the action, so the gun camera will follow suit.
Helmet mounted cameras take much more stable shots. More like a Video Game, First Person Shooter POV. The GoPro HD specifically, takes very nice High Definition digital video, but it does have a "fish eyed" lens. The lens effect reminds me of Virtual Reality from the movie Brainstorm.
The GoPro HD is easy to operate. There are only 2 buttons which control the camera and set options. It has no internal memory, so you will need an SD Card for video storage. The largest SD card it takes is a 32GB which will store 4+ hours at 1080p, 30/fps.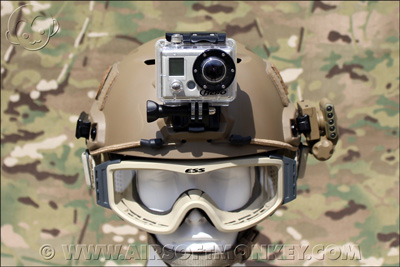 GoPro – HD Hero Camera with NVG Helmet Mount
The following video was shot by our friend Spice at a large airsoft event called Operation Lion Claws X on May 27-29 at George Airforce Base, CA.
Tech Specs:
Camera Optics
Lens Type: Fixed Focus (2ft/.6m ? ∞), glass
Aperture: f/2.8 (high performance in low-light situations)
Angle of View: 170? ultra wide angle in WVGA, 720p, or 960p mode
Angle of View: 127? wide angle in 1080p mode
Video
HD Video Resolution Modes: (subject to change, pending final firmware release)


1080p = 1920?1080 pixels (16:9), 30 fps, 15 Mbit/s data rate
960p = 1280?960 pixels (4:3), 30 fps, 12 Mbit/s data rate
720p = 1280?720 pixels (16:9), 60 fps, 15 Mbit/s data rate
720p = 1280?720 pixels (16:9), 30 fps, 8 Mbit/s data rate
WVGA = 848?480 pixels (16:9), 60 fps, 8 Mbit/s data rate

Sensor Type: 1/2.5″ HD CMOS, 2.2?m-sized pixels
Light Sensitivity: Super low-light sensitivity (>1.4 V/lux-sec)
Video Format: H.264 compression, saved as Windows- & Mac-compatible MPEG4 (.mp4) file
Exposure Control: Auto with user selectable center weighted average and spot metering settings
White Balance: Auto
?Audio
Microphone: Built-in, mono with AGC (automatic gain control)
Audio Format: 48 kHz, AAC audio compression
Photo
Resolution: 5 megapixel
Capture Modes: Single shot, photo every 2, 5, 10, 30 or 60 secs.; 3 photo burst; self-timer
Storage
Memory: SD card (SDHC), up to 32GB capacity (not included)
Average recording times (using 32GB SD card):

1080p (30 fps): 4h 21m
960p (30 fps): 5h 26m
720p (60 fps): 4h 21
720p (30 fps): 8h 09m
WVGA (60 fps): 8h 09m
Camera Connectors & Cables
PC Connection: USB 2.0 (data connection and battery charging)
HDTV Out: HD NTSC & PAL (component cable incl.)
Audio Out: Combo 2.5mm jack with stereo audio and composite video out
PC Compatibility: Windows? Vista or Windows? 7; Mac OS? X 10.4.11 and later
Power & Battery
Battery Type: Rechargeable 1100 mAh lithium-ion
Battery Life: Approx. 2.5 hrs
Charging: via USB to computer or optional power adapter
Charge Time: 80% capacity after 1 hour with optional power adapter; or 2 hours with a computer's USB port
Waterproof Camera Housing
Depth Rating: Up to 180 feet / 60 meters
Construction: Polycarbonate and stainless steel
Hardware: Stainless steel
Size & Weight
Dimensions (H x W x D): 1.6" x 2.4" x 1.2" (42mm x 60mm x 30mm)
Weight: 3.3oz (94g) incl. battery, 5.9oz (167g) incl. housing