Manufacturer: Beta Project (Hong Kong)
Type: AEG
The Beta Project – Tactical AK was modelled after a real SAIGA in 5.56, built for Tactical guru Travis Haley when he was still with Magpul Dynamics. It was made for him by E-Tac (a.k.a. ipscgun.com and ecmguns.com).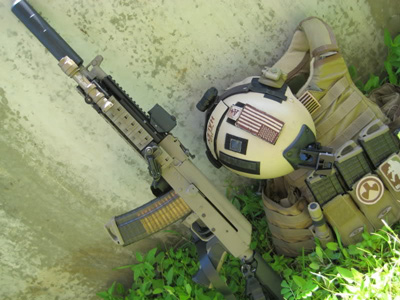 E-Tac – SAIGA 5.56 built for Travis Haley
The Beta Project, airsoft version is based off an AK AEG and functions as a type 3 gearbox AK would. It takes a stick type battery under the upper cover and I was able to easily fit a 9.6 NiMH battery. A Beta Project- 140 Round AK Magazine which is modelled after the 5.56 Arsenal AK magazine, is included. The AEG also include 2 pistol grips! It ships with a black AK style grip installed and has a SAW Style grip you can switch to if you want. I kept the AK grip on since it's smaller. It also ships with a Krinkov Style Flash Hider.
I chose to swap out the Flash Hider for the Magpul PTS – AAC Blackout 51T Flash Hider so I could add the Magpul PTS – AAC Silencer.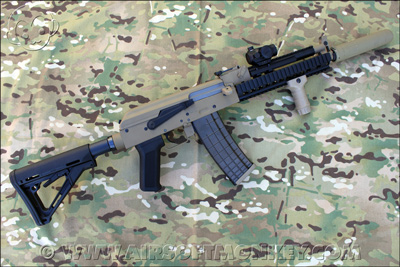 Beta Project – Tactical AK – Magpul PTS AAC Silencer, AMP Tactical Compact Combat Dot Scope and TangoDown Battle Grip are not included.
1 of the unique additional to this AEG is the Ambidexterous Charging Handle modification. On this AEG it only functions to pull the fake bolt cover back to expose the Hop-Up slider. The charging handles are the same style as used on the Magpul PTS – Masada ACR.
The inner barrel extends past the flash hider threads about 2", but the included Krinkov style flash hider will cover it. This AEG has 14mm CCW threads, so most airsoft flash hiders and silencers will work.
Average fps with .20 bb's is 421 fps