First Factory – First Impact Catalog and Second DVD of First
I'm very fortuante to have some good friends in the airsoft community. One of my pals just got back form a Japan trip, where they vistied the legendary First Factory and brought me back copies of the First Factory, "First Impact Catalog" and the First Factory, "Second DVD on First", DVD.
First Factory, First Impact Catalog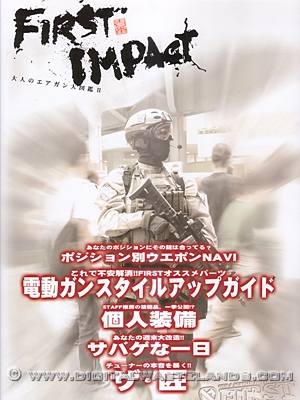 This is First Factory's printed product catalog, and done in typical high end, Japanese style design and printing. It's 146 pages of full color goodness. Not only does it list the products, upgrades and services First Factory provides, but contains articles such as:
Info for begginer airsofters. Suggested loadouts, how to play, etc.
Info for experts . Suggested new high end gear.
Info on real tactical gear (i.e. Tactical Lights, Optics, Vests, BDU's, etc)
Diagrams on how airsoft guns work.
History of First Factory.
Explanation of First Factory internal upgrades.
"Combat School" Pistol Techniques.
Gallery of Anime gun mods.
Various First Factory marketing articles.
It's as if this was an ARMs magazine with more ads and less articles. But first class layout and design.
Second DVD on First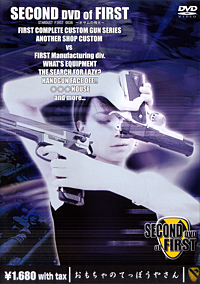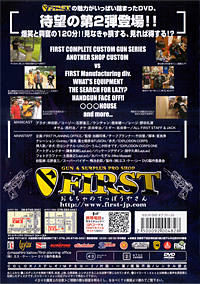 Second DVD on First – Front and Back cover
Just like the high quality First Impact catalog, the Second DVD on First DVD is a high production quality DVD. The content is basically a 45 minute airsoft infomercial, but it also includes reviews, howto's and real gun shooting. It's a good view into the Japanese airsoft market.
They show one of their highly upgraded M16's (188m/s, 617f/s) shooting through the metal of a car door.
DVD contents include:
First's Complete Custom Gun Series
Comparison of upgrade work between First Factory and a Competitor
Handgun faceoff
Tactical gear review
Real gun shooting in Guam (RC car assassination)
And some bizarre other things lol.
Hope to have video samples of the DVD posted soon.