Manufacturer: KWA (USA)
Type: GBB PDW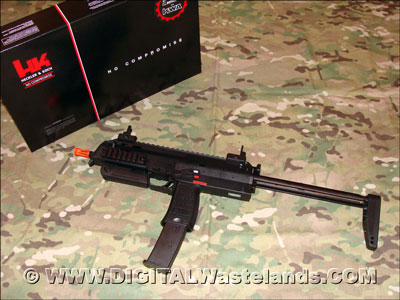 KWA MP7
Airsoft Extreme was kind enough to supply us a KWA MP7 for review. The KWA MP7 is a replica of the H&K MP7 PDW (Personal Defense Weapon).
Specifications:

Main Outer Body = Fiber Reinforced Polymer
Internal Structure = Full Metal Action Housing
Inner Barrel = 160mm
Magazine Capacity = 48 rounds
Caliber = 6mm Airsoft BBs
Gas System = Force Velocity Engine [FV]
Velocity = 380+ fps** with 0.20 gram BB's
Rate of Fire = 15 ~ 16 RPS**
Propellant = Green Gas
Dimensions = 15″ X 7″
Weight = 4.7 lbs

** Actual results may vary depending on temperature, type and brand of propellant used.

Special Features:

Official Heckler & Koch licensed product
Fiber reinforced polymer body
Functional cocking handle with realistic bolt movements
Metal Picatinny accessory rails
Retractable shoulder stock
Flip up adjustable front and rear sight
Semi and Full Auto selective fire
Folding front grip
Trigger safety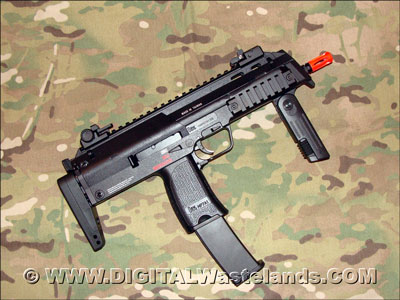 KWA MP7
The KWA MP7 (4.7 lbs) weighs over 1.5lbs more then the Tokyo Marui MP7 (3.06 lbs) and has much more metal in its' internal build. The KWA MP7 takes Green Gas/Propane without any problem. 48 Round long magazine feeds well and bolt locks on empty magazine. The selector switch has a positive feel and it's easy to cycle between firing selections.
The full auto action is crisp with light recoil action.