Manufacturer: Marushin (Japan)
Type: GBB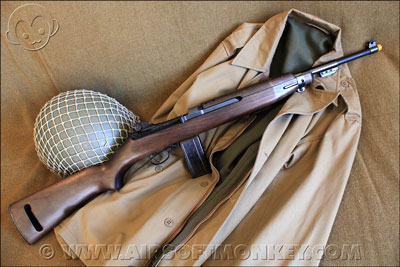 Marushin M1 Carbine 6mmBB CO2 Version
The Marushin M1 Carbine 6mmBB CO2 Version is a CO2 gas powered carbine. It fires a 6mm bb and magazine holds 15 rounds. It uses a 12 gram CO2 caplet which is carried in the magazine. A tool is included to help screw the floor plate for the CO2 caplet in place. Hop Up is adjustable and is adjusted with a supplied allen wrench.
Many thanks to our friends at Spartan Imports for supplying us this rifle for review!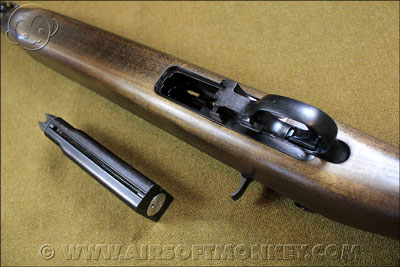 Marushin M1 Carbine 6mmBB CO2 Version
The exterior build is comprised of a genuine wood stock and metal parts. The internal mechanism has metal and plastic parts. It looks to have some self lubricating plastic parts (The nozzle, etc) to compensate for the lack of lubricant in CO2 caplets as opposed to its' green gas counterparts. The rifle with magazine weighs approximately 4.9 lbs. This is only about 1 lb lighter then the real steel version with a loaded magazine.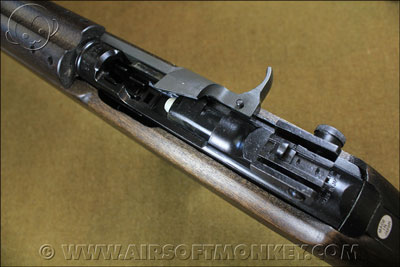 Marushin M1 Carbine 6mmBB CO2 Version
Performance wise, with .20 bb's it's in the 400 fps range. FPS is pretty consistent but due to the 12gram caplet size, gas volume when the caplet get close to empty, your FPS dramatically drops. Caplets are not a quick change item and extra magazines are not cheap and will get heavy to carry if you have a bunch.
Chrono results (FPS)
CO2 12gram
6mm, .20 BB's
Avg: 398