{simplegrade:4}
Manufacturer: VFC (Taiwan)
Type: GBB Conversion Kit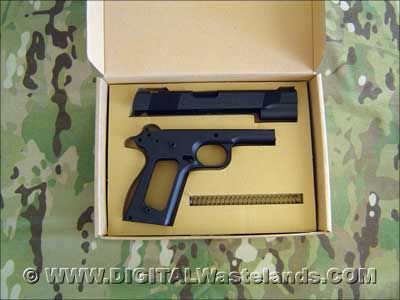 VFC – Tokyo Marui MEU Custom Parts Set
NOTE: Work In Progress.. Just received kit. I've only been able to install the metal slide so far (see below). I thought info on the lower's trademarks may be worth posting for now though.
I have just recently purchased a Tokyo Marui – MEU and was debating whether to purchase a Guarder Springfield TM 1911 Body Kit, or modify a Hi-Capa compatible slide. Luckily I received an email from Molly at VFC about their VFC – Tokyo Marui MEU Custom Parts Set. I found them for sale on WGC's site, for a low price of $104.00 and figured, at worse case, I "may" have to do alot of filing and fitting.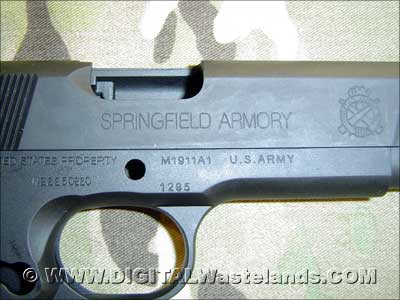 VFC – Tokyo Marui MEU Trademark Close up
This is an all aluminum kit and is relatively light weight when compared to the Guarder 1911 kits. But the VFC does include an upgrade recoil spring. The trademarks on the lower are the exact same as on a TM 1911, these are not the same trademarks as on the MEU (Marines wouldn't have something made marked U.S. Army). The slide have nice Springfield trades, logo, front slide cuts and I hope these will accommodate the TM Novak sites.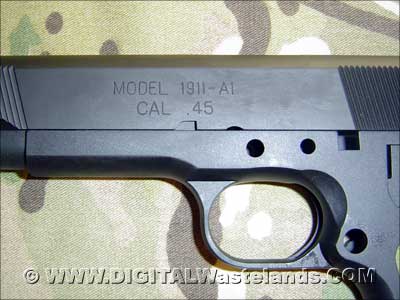 VFC – Tokyo Marui MEU Trademark Close up
Metal Slide Install
So far I was able to transplant the MEU slide's internals to the VFC Metal slide. You do have to do the Guarder notch cut on the nozzle assembly (see below), but everything else fit with only a little effort.

Only refer to the red part of what to cut. The MEU Nozzle assembly does does differ in looks from this
The sights need a little coaxing to install, but nothing a gunsmith plastic punch couldn't easily remedy. The nice part of that is, the sights won't be falling off. All other parts fit easily, The VFC metal slide on the stock MEU lower work need a little adjustment for the slide to cycle smoothly.
More updates to follow.