{simplegrade:4}
Manufacturer: Craft Apple Works (Japan)
Type: Spring Pump Shotgun
Date Acquired: 01/2008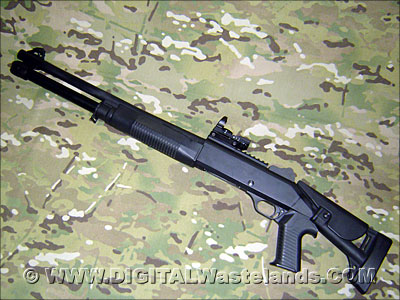 CAW – M1014 Shotgun
The CAW – M1014 Shotgun, is modeled after the The M1014, Joint Service Combat Shotgun, used my the U.S. Marine Corps. The Real M1014 is the military version of the Benelli M4, which is a semi auto, 12 gauge shotgun.
The CAW – M1014 Shotgun is pump action, unlike the real M1014 and typical to most CAW replicas, mostly made of plastic. The replica itself is visually accurate. It comes standard with the upper rail, Ghost Ring sights, pistol grip, sliding stock and 29 round magazine.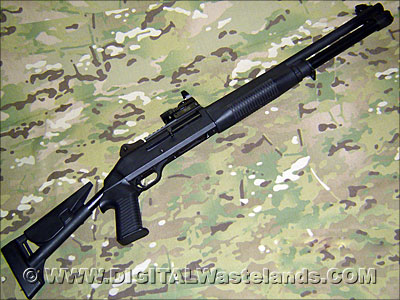 CAW – M1014 Shotgun
The CAW – M1014 Shotgun is a single pump, single bb, type of shotgun and has fixed hop-up. Chrono results form Hong kong retailer websites are stating 260 fps with .20 bb's, but for some reason this specific M1014 shoots a little higher. Luckily there doesn't seem to be any ill effects from the fixed hop-up.
Chrono Results (FPS)
.20 BB's
Min: 298.32
Max: 301.25
Avg: 299.30