Manufacturer: Leatherman (USA)
Type: Multi tool
I've been carrying a Leatherman Super Tool for almost 10 years now. Still works well. But when I saw the MUT at Shotshow 2010, it was a highly anticipated release for me.
Sufficed to say, as a multi tool it has a ton of functions. Below is the Shotshow 2010 video of the MUT, which is slightly more AR15 centric then the current marketing video.
Tools:
420HC Stainless Steel Clip Point Combo Straight/Serrated Knife
Needle nose Pliers
Regular Pliers
154CM Replaceable Wire Cutters
154CM Replaceable Hard-wire Cutters
Stranded Wire Cutters
Saw
Hammer
Replaceable Cutting Hook
Bolt Override Tool
Replaceable Firearm Disassembly Punch
Replaceable Carbon Scraper Cleaning
Rod/Brush Adapters
Carabiner Clip
Bottle Opener
Large Bit Driver
Electrical Crimper
INCLUDED BITS: Phillips #1-2 and 3/16, Phillips #2 and 1/4 Screwdriver, Torx #15 and Hex 7/64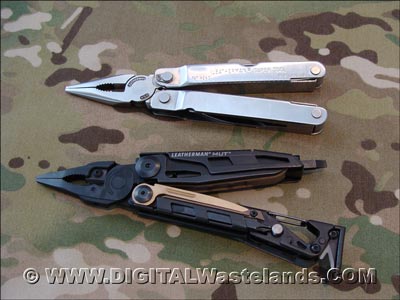 Leatherman – MUT Compared with Super Tool (Circa 2001)
So far, the punch and cleaning rod adapters work well. They give an added leverage point when using my Otis cleaning tools. I like the fact the the cutter blades are replaceable. Very ingenious way they hold all the bits in 3 areas of the tool. 1 handed opening of knife blade is a nice improvement to early Leatherman tools. The MOLLE pouch is nice and holds the additional 1/2" and 3/8" wrench. But again, I've only had it a day. Will update more as I use more of the tools.