{simplegrade:5}
Manufacturer: Western Arms (Japan)
Type: GBB
Date Acquired: 03/2004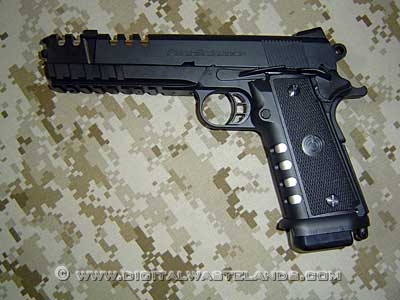 Western Arms – S.C.W. Para-Ordnance Doberman .45 Limited
My 2nd WA!!! (Although I purchased this from WA before the first WA I received shipping direct from Japan took a while..). This is the Western Arms – S.C.W. Para-Ordnance Doberman .45 Limited, yet another WA 1911 modification.
This gun includes the following:
Barrel Shroud/Meat Tenderizer
About 1 inch longer then standard Inner Barrel
30 Round Silver High Cap Magazine
20mm Lower Rail
Slide and Shroud Compensation Cuts
Silver outer barrel
Competition Style Oversized Ambidextrous Safety
Competition Style Oversized Slide Stop
Competition Style Magwell
Lanyard Nub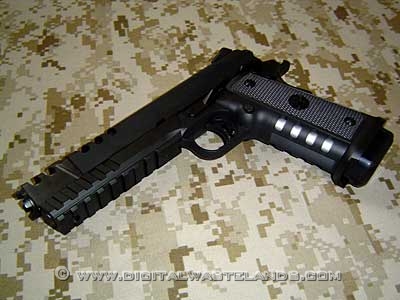 Western Arms – S.C.W. Para-Ordnance Doberman .45 Limited
Quality of this replica is top notch. It weighs a little over 3lbs so nice and heavy
There's still a little magwell wobble, but not near the wobble the Para Prokiller has.
I also bought an extra mag, which it was told to me uses the standard 30 round WA high cap mag, but the spare doesn't work with this specific gun. It works fine in my Prokiller, but it keeps the slide from returning properly on the Doby.
Performance of this gun , out of the box is really good. It slide kick is hard and crisp. At this point I haven't messed with the hopup yet , so the accuracy needs to be tuned a bit. With Green Gas, fps results as follows:
Chrono Results (FPS)
Green Gas
.20 BB's
Min: 325.26
Max: 340.13
Avg: 331.21
Not planning on doing anything else on this gun, More info to be posted later as I play with it more.