{simplegrade:5}
Manufacturer: Tokyo Marui (Japan)
Type: GBB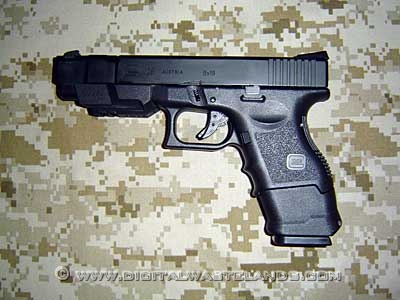 TM Glock 26 Advance
The Tokyo Marui G26 Advance is very similar to the Glock 33 Advance used in the Anime, Ghost in the Shell, Stand Alone Complex. The Glock 33 Advance should be a .40 cal instead of the G26 in 9mm though. In airsoft you would only need a slide marked Glock 33. It's basically a Glock 26 with an extended magazine and barrel and barrell shroud. It's a little larger then a Glock 17,18c for reference.
Out of the box it took Green Gas fine with no leaks and after about 10 mag fills it's still not leaking. The blowback with Green Gas is very hard. So hard I'm afraid any day now the plastic slide will break.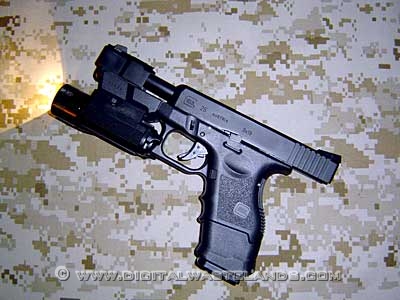 TM Glock 26 Advance and G&P M3 Replica
Update 11/2007
Still functions as new using Green Gas no problem. It's over 3 years old now.
Chrono Results (FPS)
GBB
.20 BB's
Min: 320.48
Max: 342.23
Avg: 333.94