{simplegrade:5}
Manufacturer: Tokyo Marui (Japan)
Type: AEG
Date Acquired: 03/2007
Update 07/2007
Finally found an X47 rail system I can live with and was not ridiculously priced. The First Factory/Nitro.Vo X47 Rail System. Now just need to replace that crappy GWS AK SOPMOD Bolt, find a Krebs Offset Vertical Grip, Tactical Magazine Catch and possibly an AK104 style front end to fully complete this project 😉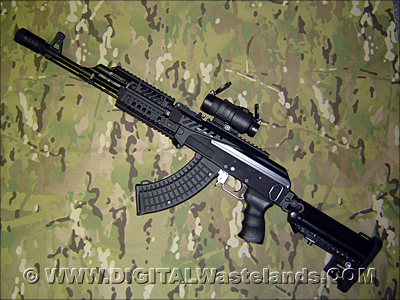 Update 05/2007
UFC/G&P finally released their copy of the TDI X47 rail system. Redwolf has them for $349.00 in Hong Kong, but the Real Steel TDI X47 sells here in the US for $379.00. So this combined with the fact the GWS AK SOPMOD Bolt broke, I've lost interest in this project. Will keep you posted.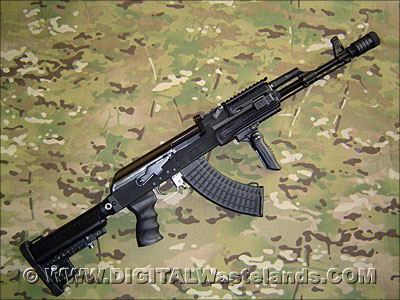 Tokyo Marui – AK47 – SOPMOD conversion
The Tokyo Marui AK47 is one of TM's most successful lines as far as durability, and stock fps and accuracy. The are also relatively simple to work on and tons of upgrades exist.
Right now it's still a work in progress. Converting a Tokyo Marui AK47 to a Blackheart Int'l SOPMOD AK. Parts added so far:
GWS AK SOPMOD Bolt and Selector (Broken Bad Quality, Stock Bolt re-installed)
K-var KFH Flash Hider (Real Steel) with -14mm conversion
Star Clubfoot Stock – Battery Capable
9.6 1800 Mah Clubfoot Battery (Insane ROF)
I'm now rethinking the whole BHI SOPMOD AK conversion now that the GWS AK SOPMOD Bolt and Selector was of such poor quality. Will keep you updated here.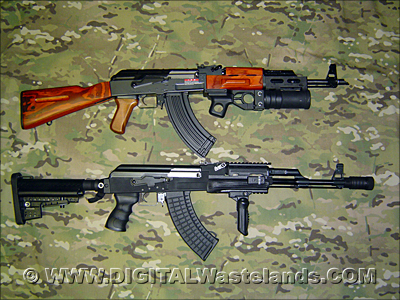 TM AK47's – (Top) AKM , (Bottom) SOPMOD