{simplegrade:5}
Manufacturer: Maxpedition (USA)
Type: Pouch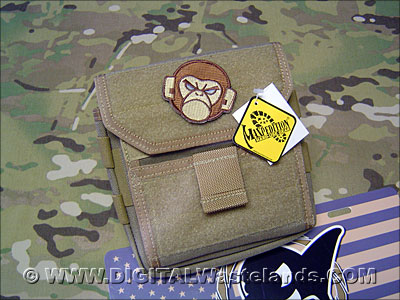 Maxpedition – Monkey Combat Admin Pouch
The MAXPEDITION Monkey Combat Admin Pouch, was designed by MilspecMonkey and manufactured by Maxpedition. Bellow you will see a VERY detailed description of the Monkey Combat Admin Pouch and its' features. While it may seem like alot, this little chest pouch is full of features.
If you are interested in purchasing an MCAP, please consider buying from MilspecMonkey direct.
MAXPEDITION Monkey Combat Admin Pouch – by MilspecMonkey
Overall: 7" x 6.5" x 1.5"
Rear Sleeve: 7" x 5.5"
Main: 6" x 6" x 1"
Middle Security: 6" x 6"
Frontal: 6" x 5" x 0.5"
Mini Frontal: 5" x 2"
ID Area: 5" x 4.5"
I've had this design cooking for probably over a year and I'm happy to announce it is finally here. In collaboration with Maxpedition, this will be my first public release design. I knew I could count on Maxpedition to make these with exceptional quality using their hard-use gear standards. The main Idea behind the pouch is to find a balance of size for an admin pouch. I was unhappy with the other admin pouches I had tried that were too small or too long in one dimension. The Monkey Combat Pouch allows storage of up to 6 multitool sized items, but still leaves room for proper shoulder stocking of one's weapon. It lays fairly compact and flat when empty, but is ready to expand to suit your needs.
Core functionality begins with the main flap. The outside is covered with loop velcro for your patch / ID needs. The inside of the flap has a good panel of hook to allow the flap to accommodate the pouch when empty or full. The flap itself has a sleeve pocket that goes down the back of the main pocket. It works well for additional out-of-the-way organization of slim items. The main pocket has 1.5" depth and has elastic on the front and back sides with 3 divisions each. The user can fill these out or use the preferred side. The elastic division spacing works great for pistol magazines, chem lights, flashlights, multitools, and more. The pocket itself can hold many diverse items such as 2, 30 round NATO magazines vertically, gloves, GPS units, handcuffs, pens + small notebooks, the list just goes on. A grommet is included for drainage.
The next pocket is the slim high security pocket. The top is fully sealed with velcro and has 2 staggered pull tabs. This area can be hard to open sometimes, but is designed as such to make sure the user can have full confidence they can store crucial items inside. Money, cards, keys, and batteries are just a few examples of appropriate items for this pocket.
Moving forward is the frontal pocket. This area has .5" depth and elastic webbing on the back side with 3 divisions like on the main pocket. 3 multitool sized items can fit or medium thickness items such as cell phones and PDAs. The frontal pocket can be used to hold the smaller items more securely or to help divide items that would have all fit in the main pocket, but would be banging around. A short pocket is connected to the Front pocket which came out as a freebie in the pouch construction. Smaller items like chap-stick can be placed here to make them more easily accessible since they lay higher up in the pouch instead of at the bottom.
Another feature setting the Monkey Combat Pouch apart from the rest is the unique ID flap. Although at first glance, one may want to pull up on the pull tab, the tab is pulled down to open. A clear vinyl sleeve with anti-glare texture allows placement for 2 IDs, a mini map, ballistic sheet, HVT pictures, or whatever slim item one wants to put in there. The folding of the pocket naturally makes 2 divisions, but there is only one opening to deal with. When the flap is closed, the goods are velcro sealed securely inside. This allows the user to quickly flash their ID or view intel when needed, then go back to business being fully concealed. The way the ID flap is stitched to the pouch creates a cave area where items can be stored. A flashlight, beatstick, or knife fit in here well for quick access, but low security. Alternatively slim paper documents can be hidden inside as well.
The back has larger than usual PALS channels to allow the user to fudge between using 3 or 4 PALS channels to mount using 2 long Malice Clips. Although this pouch was made with intent to be chest mounted on one's kit, it can also function well as a general multipurpose / organizer pouch on other locations and gear. It is slim enough to mount on the side of a vest, and works well on backpacks and shoulder bags with PALS webbing.
For extra designer notes:
The main flap length was a challenge. It won't be perfect for every situation, but is a balance of length to close when the pouch is filled, but not too long to be a hassle to deal with then opening.
The pull tabs of the slim middle pocket can be used to assist in holding down items in the front of the main pocket or back of the frontal pocket.
When 30 round NATO magazines are stored in the main pocket, the pouch can't hold much else and still be able to close the main flap.
Pens can be held on the outside using the side elastic and the exterior or interior elastic can be used for lanyard connection points.
The Monkey Combat pouch is available in Maxpedition's great colors of Khaki, ACU, Green, and Black. Check out MilSpec Monkey's video demo for a full breakdown: