Manufacturer: ECHO NiNER
Type: Camera Gear
I've been using the E9 Dee Lux Camera Strap daily for half a year, and it has taken the abuse without showing a sign of wear. It's a useful and unique strap that you can trust to perform with your expensive camera. The E9 Dee Lux Strap comes in multiple colors (Black, Coyote, Multicam), has a variety of useful features, and is reasonably priced for the USA made quality you get.
The E9 Dee Lux Strap easily mounts to the body of your camera using MilSpec 550 Parachute Cord that you loop through the camera's sling attachment points. It's tough, and you don't have to worry about it coming loose.
The strap itself features two DuraFlex Fasteners that allow you to quickly detach the strap from the camera if need be. The strap is also easily adjustable on the fly from lengths of 37" to 53"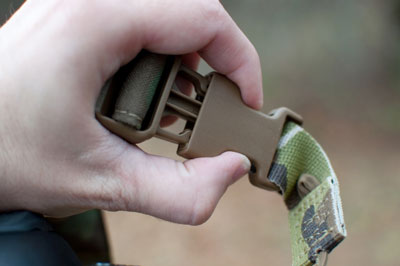 The strap has useful features such as the 1'' MOLLE webbing, 1/8″ closed cell foam padding with Drilex moisture wicking lining, and a 3.9''x2'' section of Velcro to attach a pouch or morale patches. The Dee Lux strap is highly versatile, and can be adapted to your shooting style or needs.
The E9 Dee Lux Camera Strap is my first choice for larger framed camera bodies that need a solid strap to safely support their weight. The extra features make it usable in a variety of situations where other straps may fall short. The different color options allow you to customize, or if you use multiple bodies at once they are a good visual indicator. The E9 Dee Lux Camera Strap is not coming off of my camera until it breaks (which will not be any time soon!).