{simplegrade:4}
Manufacturer: First Factory (Japan)
Type: Magazine

First Factory G36c Box Magazine (Dummy Ammo not Included
)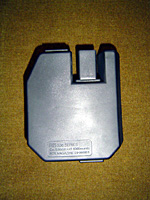 First Factory – G36 Box Magazine
The First Factory – G36 Box Magazine is a very well desinged box/drum magazine used for the G36 family of AEGs. This mag is manual winding adn has a 5000 round capacity. Unlike other drum mags that are made of metal or hard plastic, this mag is made out of a thicker platic/resin type material which helps dampen the bb "rattle" effect found with all high cap type mags.
The design of this box mag follows the profile of a normal G36 mag and when installed is about the width of 3 mags clipped together. It is a unique type of box mag in that it holds 2500 or so rounds in a live primeable are and the other 2500 sit in a resevior for storage.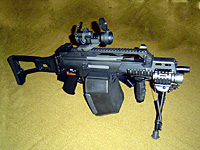 First Factory – G36 SAW Other Side
When I purchased my Box Mag, I also needed to get a TM G36c High Cap mag to use as its' internals. It's a very easy install. Simply unclip the internals from the TM Box Mag and slide them into the FF Box Mag. No other modifications are needed.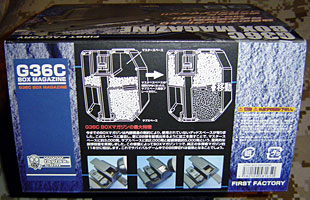 First Factory – G36 Box Magazine – Instructions
I wanted to post the pics of the instructions from the box to better show how the resevoir system works. It's very simple in design and will lend to being a very dependable. Note that even when the mag is fully loaded there is a void that I thik can be used to house a motor and small battery. If i get some time I'm going ot try and install a motor in this unit. Will keep you posted here.