{simplegrade:5}
Manufacturer: Tokyo Marui (Japan)
Type: GBB
Playing a little "catch-up" on some older models I always wanted to get. I was always a fan of the Biohazard/Resident Evil series, but not a fan of the Beretta 92f. (I happened to be at Camp Pendelton the year they swtiched over from the 1911 to the 92f. It was a sad year to say the least)

Tokyo Marui – Samurai Edge Standard Mod
This is a typical high quality/reliabilty TM GBB. Takes green gas no problem, operates well and S.T.A.R.S. markings are well reproduced. This is basically a TM 92f with S.T.A.R.S. markings.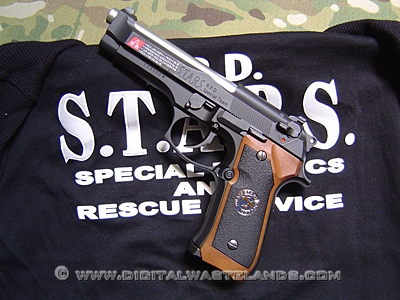 Tokyo Marui – Samurai Edge Standard Mod
I added the G&G, M92 underrail mount for a psuedo Barry Burton model feel. The G&G mount is really well built and give an almost machined rail feel. But it makes for wearing gloves difficult with much less room in the trigger guard area.