I'm going to combine my last couple of visits in 1 post.
04/25/2008
The Star SCAR with EGLM made an appearence!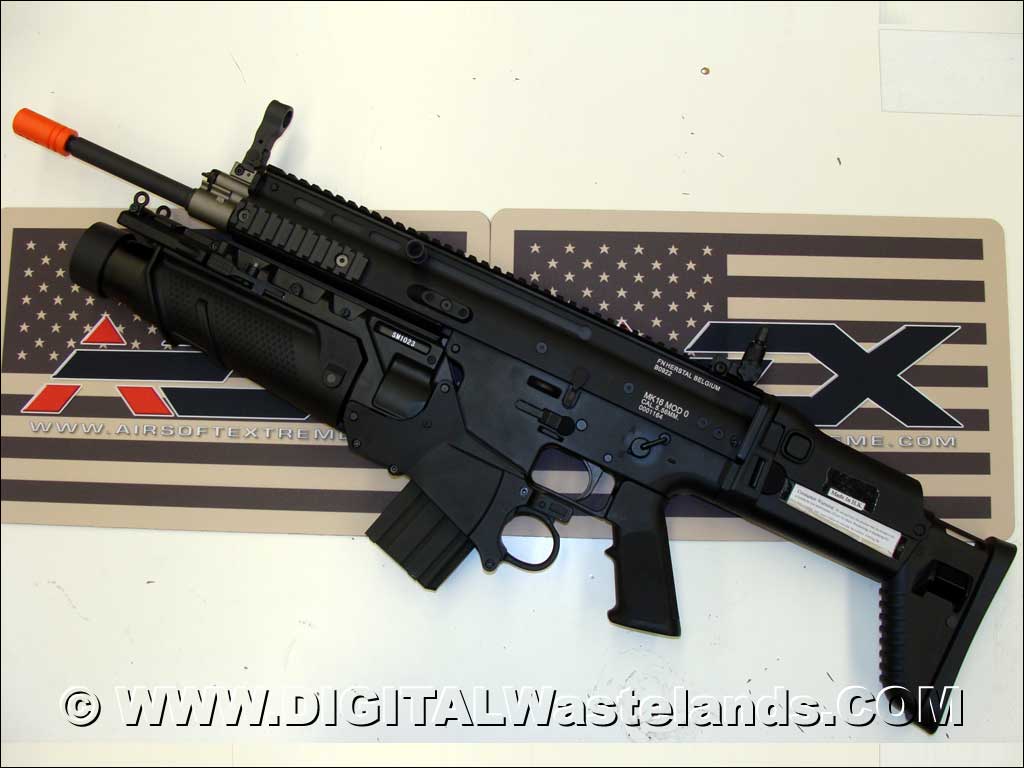 AEX received a Star SCAR in stock with EGLM today, and of course, I had to not only test the Star Scar out, but had to test fire the EGLM on all the different SCARS; )
Star SCAR
The build was pretty rough when compared to both VFC and CA. Star seemed to have copied the VFC with the rear battery hinge contacts. this specific SCAR had a very loose lower rail. Which unfortunately made the EGLM feel "wobbly" on the Star SCAR. The Star SCAR fired at around 355 fps, and gearbox sounded nice a strong.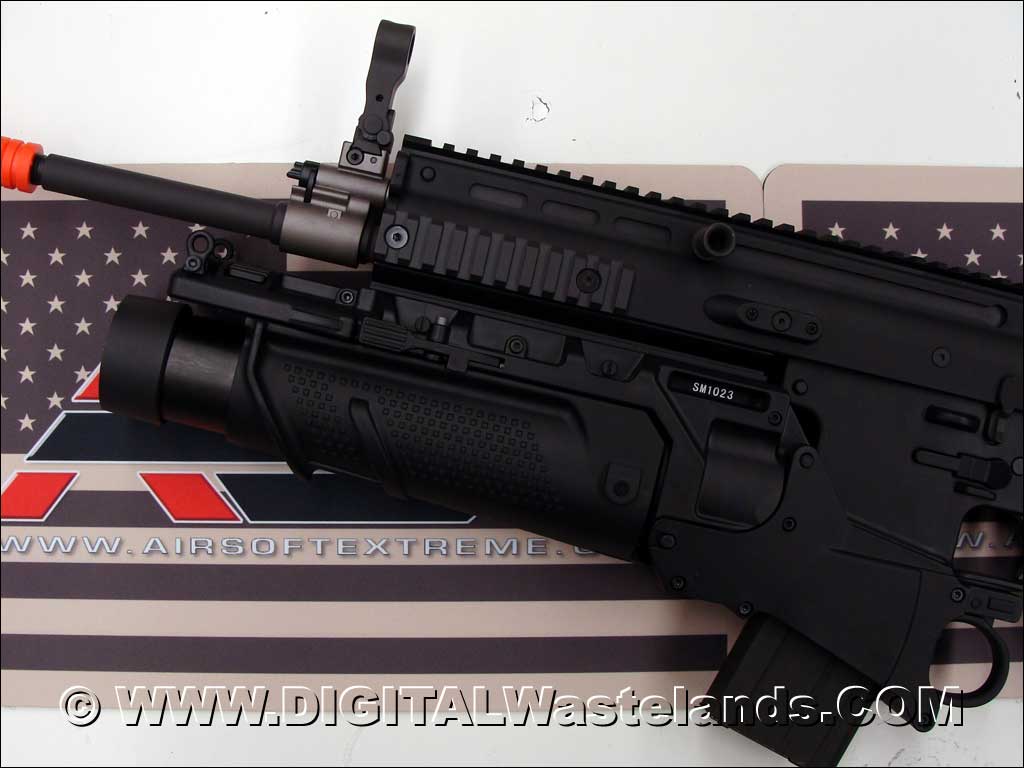 Star EGLM
The Star SCAR EGLM can fire 40mm airsoft grenades. It sides open in much the same way as an under slung M203 style launcher. But when launcher is fully opened, you can cant the launcher tube left or right to aid in grenade insertion. The build is mostly plastic. The trigger placement is great where you can still engage the trigger on the SCAR itself and the launcher simultaneously.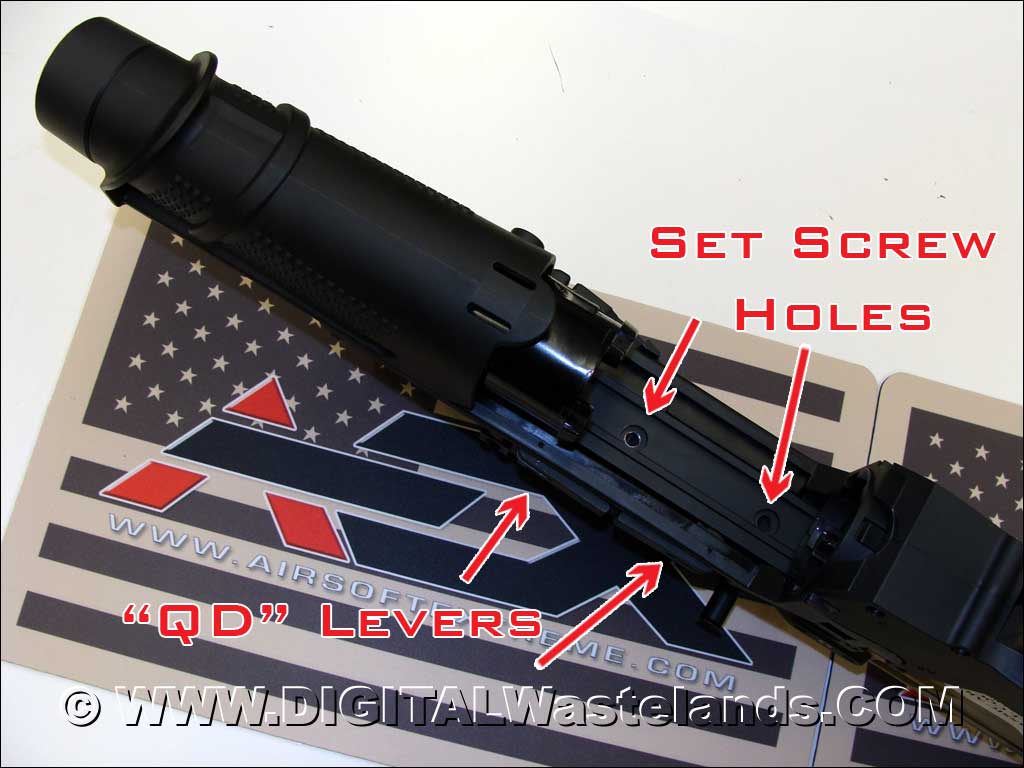 The Launcher attaches to the lower rail of the SCAR. The 2 side Quick Detach levers are actually more like side pressure levers. There are 2 threaded set screw holes which actually secure the launcher to the lower rail. it works perfectly on the Star and VFC SCARs, but the set screws do not line up correctly on a CA SCARs.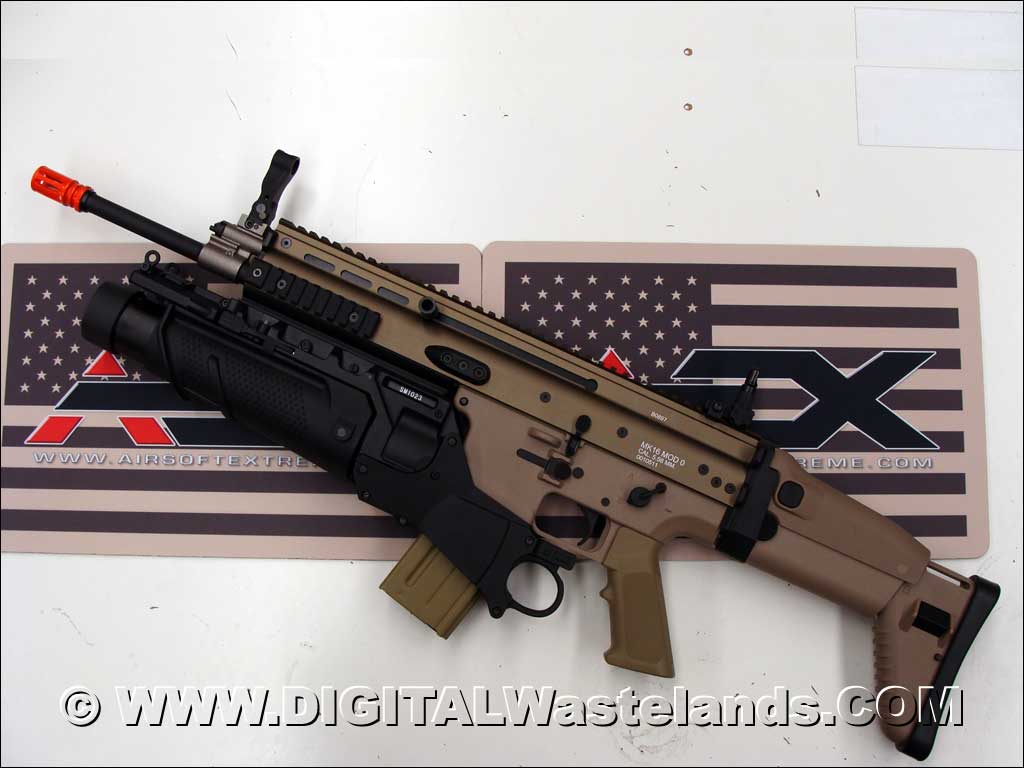 Star EGLM Mounted on a VFC SCAR
Mounting and fit were extremely easy on a VFC SCAR.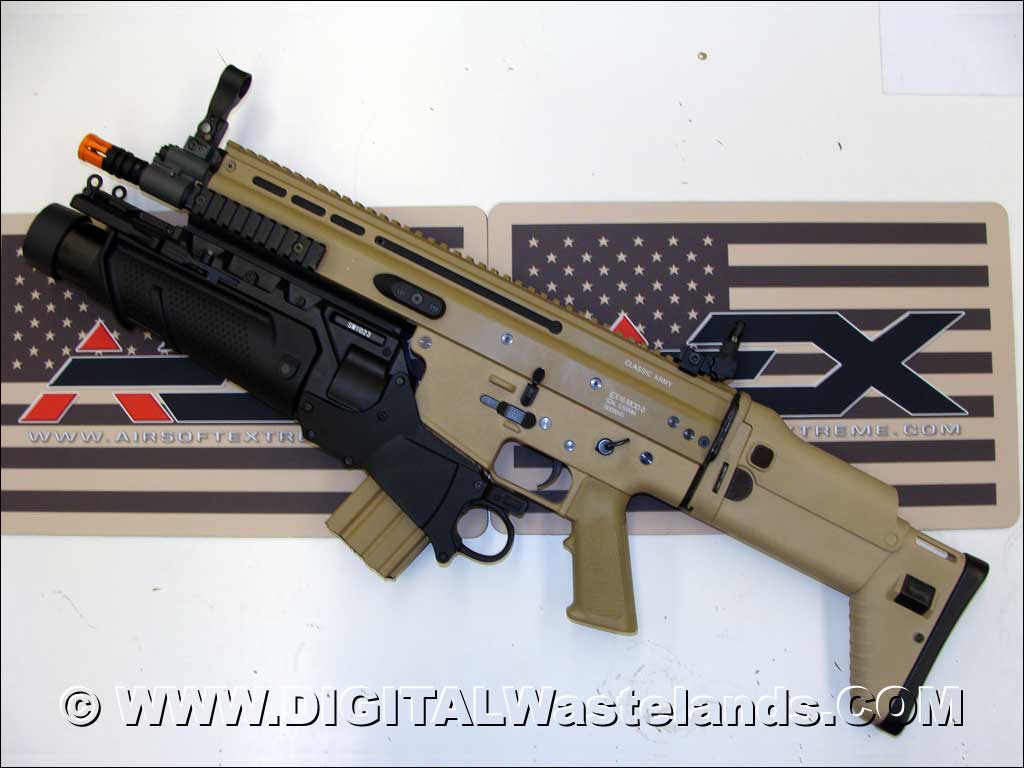 Star EGLM Mounted on a CA SCAR
Mounting and fit were slightly "off" on the CA SCAR series. As mentioned above, the set screw holes were off on the CA Scar rails. We could only use the QD pressure side levers to secure the launcher. The magwell also didn't line up 100%, so you had to "wiggle" the magazines in place.
04/18/2008
It was a great day for AK variants at the shop!
Realsword – Type 56

The Realsword AK is the closest airsoft replica I've held, when I directly compare it to my Norinco AK. You can see and feel where they used real AK parts modified for airsoft use. The magazines seem to be gutted real magazine, with 150 round midcap internals. The Type 56 shoots around 310 fps with .20's. The gearbox/motor noise is noticeably more "muffled" then in other AK AEG's.

USCM's – GWS Bizon

USCM is a customer and friend of AEX. He definitely likes the more rare airsoft weapons. These guns that I label as his are NOT for sale at AEX, but he does bring them by to let us check them out which is greatly appreciated.
About a month ago he dropped of his GWS Bizon, for the AEX techs to do some work on. I was extremely impressed with the overall build of this GWS AEG. I've had quality issues with GWS parts I've purchased on my own, but this fully built GWS AEG is solid. That under slung tube style magazine holds 750 rounds.

USCM's – TSI Galil SAR

USCM brought by 2 of his TSI Armories Galils. TSI is a U.S. based airsoft "manufacturer". Not sure what internals they used, but their externals and build are very nice.
The SAR is a Medium sized Galil. Metal body with polymer furniture. The TSI build everything is put together very well. 1 neat feature is flip up night sights which work in conjunction with iron sights.

USCM's – TSI Galil MAR

USMC also brought by his Galil MAR. The MAR, also known as the Micro Galil is as SMG sized Galil. Metal body with polymer furniture. The TSI build everything is put together very well just as with the SAR mentioned above.